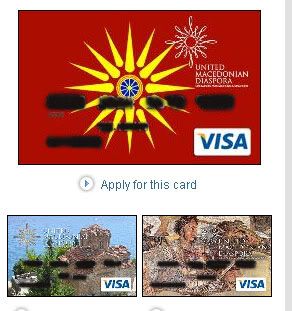 As you may know, the "United Macedonian Diaspora UMD" is a lobby for the irredentist and fascistic Skopje government, and it has mislead CardPartner Inc and CardPartner Visa affinity credit card program into misusing the Star of Vergina that belongs to Greece and is protected by the WIPO (World Intellectual Property Organization) .
We urge you all to mobilize your constituents to attend a national information campaign on January 02, 2009 at 12:00 noon to be held outside the offices of CardPartner, Inc., 37 West 20th St., New York, NY (Between 5th Ave. and 6th Ave)

It is imperative that we send a clear and powerful message to CardPartner Inc. and to all Americans,that we oppose the anti-Hellenic lobby "United Macedonian Diaspora UMD" and its cultural genocide program, its support for false historical revisioniosm, its support of the Skopje government's threats to destroy the Hellenic people. and its attempts to cover up the Skopje government's blatant abuse of human rights.
http://stoptheantihelleniclobby.wordpress.com/
Below are the WIPO links that trademark the Vergina Sun as Greek Emblem
The 16-pointed star "Sun of Vergina" as also named re-discovered in excavations as the symbol of the royal Macedonian dynasty of ancient Greece, and which is now being claimed as their own by the FYROM Slavmacedonians, was widely used in Attica during the classical period, long before its adoption by the Macedonian royal house.

The star, identical with the one decorating the larnax discovered in the tomb of Philip II of Macedonia, father of Alexander the Great, at Vergina in Northern Greece, has been found as one of the elements of decoration on at least four temples of the classical era, including two on the Acropolis of Athens.

The 16-ray star as it was designed on the golden larnaka that contained Philippos' remains. That appearance of the 16-ray star is possibly the only appearance on ancient findings.